Melanie Johnson & Jenn Foster Hit #1 Amazon Best-Seller List
Melanie Johnson & Jenn Foster Hit #1 Amazon Best-Seller List With "How To Write Your Story of Accomplishment and Personal Success."
Wr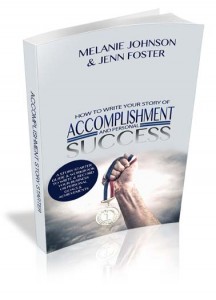 iting and media experts Melanie Johnson & Jenn Foster recently hit FOUR National Amazon.com best-seller lists with the new book, "How To Write Your Story of Accomplishment and Personal Success."
Sandy, UT –February 28, 2016 – Melanie Johnson, a former TV station owner and Detroit Channel 20 news anchor, and Jenn Foster, Founder and CEO of Biz Social Boom, recently joined the ranks of best-selling authors on Amazon.com.  They are two of the nation's leading experts on digital marketing and publishing. Together they co-wrote the book titled: How To Write Your Story of Accomplishment and Personal Success: A Story Starter Guide & Workbook to Write & Record Your Business or Personal Goals & Achievements (Elite Story Starter 1). The book was released on January 14th by Amazon.com – the nation's #1 place to buy books.
How To Write Your Story of Accomplishment and Personal Success  has over 50 guided questions organized into sections about your goals, motivation, planning, lessons and mentors to help track the journey of your accomplishments and success. This journal offers an excellent means to preserve memories and discover hidden aspects of yourself and your journey. Here is the vehicle to encourage and inspire others with your path.
On the day of release, How To Write Your Story of Accomplishment and Personal Success: reached international best-seller status and National best-seller status in four Amazon.com categories – reaching #1 in the "Self-Help," "Authorship," "Journal Writing," and "Publishing & Books"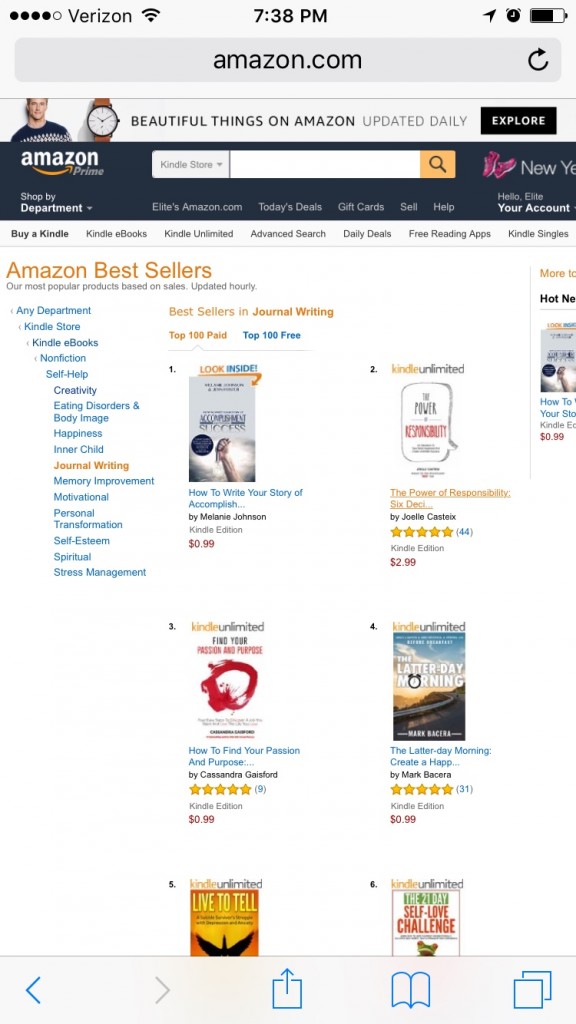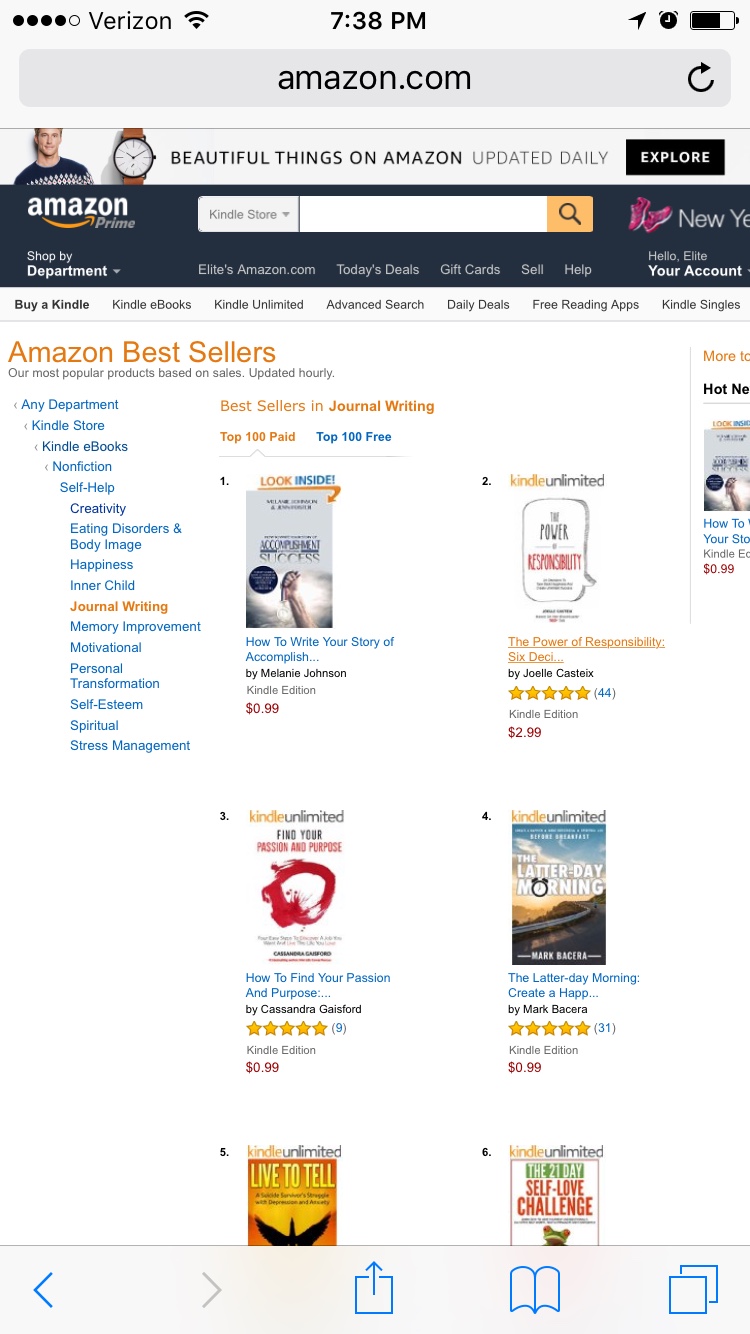 About Melanie Johnson:
Melanie Churella Johnson is the former owner and Vice President of 2 Independent TV stations in Houston (Channel 51) and Dallas ( Channel 55). Melanie has a background in Media, Marketing and Advertising. She has been in front of, as well as behind the camera. Melanie started her career as a News Anchor in Detroit at Channel 20. She is a Michigan native, who graduated from Michigan State University and earned the title of Miss Michigan. 
She got her feet wet in the luxury building and design industry when she was the general contractor and developer for her personal 25,000 sq. ft home known as "The Houston Mansion" and her 13,000 sq. ft summer home in Petoskey, Michigan "The Walloon Lake House. " 
During the economic down turn, Melanie turned both of these properties into successful Luxury Vacation and Event Rental Properties.
Her newest vacation rental is the Dominican Villa in Puerto Plata. Melanie has traveled all over the world and fell in love with Puerto Plata. She soon purchased a Villa Membership at Lifestyle Holiday Vacation Club. In this book, she shares with you her favorite restaurants and attractions in Puerto Plata. Plus the insider tips to ensure you will have a great time.
Additional information about Melanie and her business can be found at
www.vrbo.com/263832.
Follow Melanie at:
Facebook: https://www.facebook.com/melanie.c.johnson.58
Linked In:  https://www.linkedin.com/in/melanie-johnson-13b89816
Other Books by Melanie Johnson:
Puerto Plata best Restaurants: Insiders Tips and Guide for a Great Time
Dominian Republic Lifestyle Holiday Vacation Club FAQ's: What You Want to Know Before you Go to Make Your Trip
About Jenn Foster:
Jenn Foster, is one of today's national leading online and mobile marketing experts. A four time Amazon #1 best-selling author, award winning web designer, and sought after speaker. She is the founder and CEO of Biz Social Boom, a company dedicated to helping business owners of all sizes thrive in today's highly technical world of product and service promotion.  From local brick and mortar stores to online entities and to large international corporations, Jenn's years of experience and expertise has helped hundreds of others become the front page news on all of the major search engines.  She is dedicated to helping businesses use powerful new online and mobile marketing platforms to get visibility, traffic, leads, customers and raving fans.
A graduate of Utah State University, Jenn is an award winning web designer, author, and sought after speaker.  She has shared the stage with marketing experts Mike Koenigs, Ed Rush, Paul Colligan, Pam Hendrickson and others. She was also an expert guest on the Teach Jim Show on Blog Talk Radio.  Jenn has been a guest on multiple podcast shows including: Instant Authority Expert with Keith Shannon, Stephanie Bavaro's Greatful Women Talks, Online Marketing Guy Livecast by Steven Laurvick, and many more. Jenn has been named one of America's Premier Experts® and is a co-author in the book Stand Apart with Dan Kennedy, a major national publication, and an Amazon kindle best seller.  Jenn recently received a Quilly Award in Hollywood from the National Academy of Best Selling Authors, for her contribution to the book. Melanie Johnson and Jenn established Hot Chicks Write Hot Books LLC in 2015. They create  book writing retreats held in exotic locations like the Dominican Republic. They teach, write, and publish their clients' books while enjoying an island vacation. They have a weekly podcast show on iTunes: Hot Chicks Write Hot Books Podcast. Jenn enjoys spending time with her three children, sewing with her family 4-H club, experiencing the great outdoors and she loves Zumba.  Additional information about Jenn and her business can be found at www.JennFosterSEO.net or by texting your email to (801) 901-3480.
Follow Jenn at:
Facebook: www.FaceBook.com/JennFosterChic
Twitter: @JennFosterChic
YouTube: www.YouTube.com/user/VideoFacebook101/
Other Books by Jenn Foster:
Stand Apart: Stand Out From the Crowd to Achieve Ultimate Success.
Featuring Dan Kennedy, Jenn Foster and Leading Experts From Around the World.
Video and Social Media Marketing for Professionals: The Top 10 Need to Know Facts for Increasing Local and Internet Traffic
Links:
To order a copy of the book, please go to http://amzn.to/1T3GeAZ